Hyundai fills a gap in its line-up with a crossover derivative of its immensely popular small hatch. We test the i20 Active...
The B-segment is a bustling place for crossovers at the moment and, as a potential buyer, you have something of a philosophical choice to make. Do you want a vehicle specifically designed as such – and here we're talking Ford EcoSport, Renault Captur and Duster, and Mazda CX-3, or Audi Q2 if you head further upmarket – or would you prefer a cosmetically beefed-up hatch? This Active derivative of Hyundai's popular i20 five-door is an example of the latter, along with the likes of the Volkswagen Polo Vivo Maxx and the Toyota Yaris Cross.
In addition to the mild styling and spec update recently applied to the rest of the i20 range, the Active boasts the usual dark crossover cladding on its sills and bumpers, together with faux bash guards and roof rails. A 20 mm increase in ride height (170 mm in total) lends some substance to the jacked-up styling and, metallic-effect fuel cap aside, it's a reasonably restrained take on the crossover genre.
Inside, there are a number of trim accents that distinguish the Active from its regular brethren, including red or blue seat-bolster trim and similarly coloured inlays around the dash air vents and gearbox cowling. The flashes of colour add life to a fairly sombre, although well-constructed and sensibly laid out interior that's reasonably equipped. Whereas hard plastics render the cabin more functional than soft-touch comfy, you do get climate control and a seven-inch touchscreen infotainment system as standard, along with a few bits and bobs such as auto lights, auto-dimming rear-view mirror and park distance control. There are also a number of useful storage areas scattered throughout the cabin, including a large cubby in front of the gearlever and two cupholder mouldings in the centre console.
We've always been impressed with the i20's packaging and its relatively long wheelbase (22 mm lengthier than the new Volkswagen Polo's) and short overhangs contribute to its excellent front- and rear-passenger legroom, as well as class-leading boot and cargo space. The omission of Isofix child-seat-anchor points may be a deal-breaker for any parents needing to transport their kids, though. A lack of an ESP traction control system and the presence of just two front airbags are two further eyebrow raisers in a segment where such safety features are increasingly demanded as standard.
Behind the wheel, the hiked-up suspension naturally offers slightly better outward visibility than the average hatch, although it's not quite the perch of a purpose-built crossover. The other attribute you would expect of that extra ride height would be a little more body roll and there is, but none of our testers marked it up as a concern. Their overall impression was the Active offers a supple and well-controlled ride. There's plenty of mechanical grip on offer and the steering, while a little lifeless, is relatively well weighted and accurate; a revised suspension geometry and new tie-rod design is what Hyundai attributes to the improvement.
An area where the i20 does announce its age is under the hood. The 1,4-litre, naturally aspirated engine feels flat against the new-generation small-capacity turbopetrols that motivate some of its competitors, reaching its peak outputs round 1 000 r/min later than those vehicles. As ever, our testing is done at sea level and the Active's performance was deemed adequate but, for those of you up north at higher climes, the Hyundai's Kappa unit could be found wanting. We registered 11,89 seconds for the 0-100 km/h sprint, which is 0,3 slower than Hyundai's claimed figure. A six-speed manual is the only transmission on offer and, much like the character of the i20, its operation doesn't require too much of the driver with a precise enough shift and easily modulated clutch.
In Europe, the i20 offers Hyundai's new 74 kW 1,0-litre three-cylinder turbopetrol and it's a pity that, for pricing and supply reasons, Hyundai South Africa cannot offer it here. It would also remedy the obvious weakness any naturally engine has up against these turbos and that is low torque output. By naturally aspirated standards, the 8,04 L/100 km of our fuel-index figure (matched by our previous long-term i20) is high for a vehicle in this class. You can expect a turbopetrol to drink 2,0 L/100 km less.
Despite sporting disc brakes all round, the 10-stop emergency-braking test yielded an average 100-0 km/h stopping time of 3,03 seconds; that's a "good" rather than "excellent" on our grading scale.
TEST SUMMARY
The cynics among you may scoff at the Active's exterior accoutrements and marginally increased ride height as little more than a relatively expensive styling exercise doing little to improve Hyundai's popular small hatch. That would be both untrue and missing the point. In our opinion, the pseudo-SUV extras add zest to what's otherwise a fairly conservative exterior design and that extra 20 mm ride height makes a noticeable difference on gravel roads where the Active feels impressively composed.
Like the rest of the i20 range, the Active could do with Hyundai's new European-market 1,0-litre turbopetrol engine. However, that's the only thing really detracting from a vehicle which does its job with little fuss. It's neither the most exciting drive, nor the cheapest in the small-hatchback class, but the i20 remains an easy-going and spacious five-door that, in Active trim, adds some flair.
*From the September 2018 issue of CAR magazine
ROAD TEST SCORE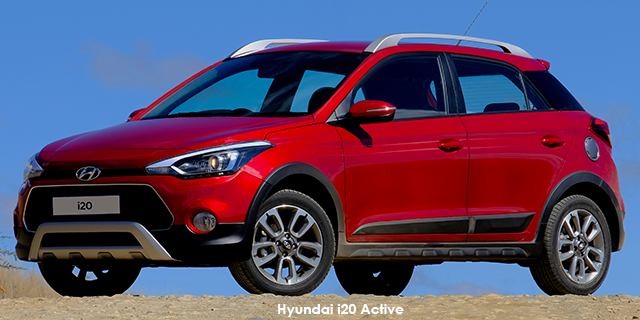 i20 Hyundai i20 Active 1.4 Fluid
Price: R330,400
0-100 km/h: 11.6
Power ([email protected]/min): 74 KW @ 6000
Torque ([email protected]/min): 133 N.m @ 3500
Top speed: 182
Claimed cons. (l/100 km): 6.7 l/100 KM's
C02 emissions (g/km): 155 g/KM
Original article from Car