Now in its second generation, the Jeep Compass is a more accomplished offering. But it faces stiff competition from the mainstream brands...
"Should the allure of the Jeep badge prove too hard to resist, you'll not be buying a bad car." Our conclusion to the road test of the previous-generation Compass in November 2011 is a textbook example of how to damn a vehicle with faint praise. While the midsize SUV had its positive attributes – we complimented the overall refinement and solidity of the cabin – its faults were too numerous and obvious for us to recommend it above the Volkswagen Tiguan and Hyundai ix35 of the time.
Leap ahead eight-plus years and a new Compass is on sale in South Africa ... not that you might have noticed. Introduced locally nearly a year ago, Jeep SA quietly added the midsize SUV to its showrooms. The restraint extends to the line-up, too; just one model is offered in high-specification Trailhawk 4x4 grade sporting a 2,4-litre, four-cylinder, naturally aspirated Tigershark petrol engine under the blackened bonnet connected to a nine-speed automatic transmission. It costs around R600 000, which should see its aspirational badge afford it some much-needed clout among the more mainstream brands vying for attention at this price point.
Now, say what you will of Jeep's continued reliance on such staple design cues as a seven-slot grille and squared-off wheelarches, but they're used to positive effect on this compact Jeep. It is a handsome vehicle despite being nearly four years old. There's a balance to the proportions that many rivals simply can't replicate (there's dumpiness aplenty in this crowded segment). Unsurprising considering this is a comparatively compact car; a Mazda CX-5 is a whole 152 mm longer.
Standard on this Trailhawk grade – other markets also offer Sport, Longitude and Limited spec levels – are dual-colour 17-inch alloy wheels wrapped in sensible all-season 60-profile tyres; LED head- and taillamps and the Trailhawk package that includes Neutral Grey trim elements; that aforementioned bonnet decal and an off-road suspension package paired with reprofiled bumpers to boost approach, breakover and departure angles (ground clearance is a generous 220 mm). Badges on the front flanks confirm the Trailhawk is "trail rated", Jeep's own measure for its off-roaders.
The good news continues inside, where the heavily bolstered, heated front seats offer a driving position that's easily tailored to pilots of varying heights thanks to eight-way electric adjustment. The steering wheel is a pleasure to hold and feels perfectly sized. Ahead, there are legible analogue dials supplemented with a seven-inch TFT info screen and an 8,4-inch Uconnect touchscreen infotainment system offering both Apple CarPlay and Android Auto (although six speakers are a touch feeble at this price point). While not on par with the best systems in the class, the Uconnect setup boasts easy usability. The sat-nav is woeful, though, often not registering street names or taking roundabout routes, but smartphone mirroring solves that issue.
Where an argument for the Compass unravels is when assessing interior room and perceived quality. Adequately spacious for four adults, this SUV offers compromised headroom when selecting the intrusive R20 000 double-pane sunroof but rear legroom of 711 mm is competitive. The boot, at 248 litres, is one of the smallest in the segment and the loading lip one of the highest. That said, the rear bench is comfortably sculpted, there are two vents piping in air from the dual-zone climate control and the transmission tunnel isn't invasive.
Perceived quality, meanwhile, is soundly beaten by the likes of the CX-5, RAV4 and VW Tiguan. The slush-moulded tops of the dashboard and doors do a passable impression of luxury but elsewhere there are too many insubstantial-feeling plastics. They'll likely last yet the steering column stalks seem like they're about to snap off in your fingers. Still, credit where it's due: this test vehicle felt impressively well put together with no discernible creaks and rattles.
We subjected the Compass to only mild off-roading and it felt like it could handle far rougher terrain. Impressively, it boasts Jeep's full-suite Selec-Terrain system offering five distinct modes tailoring the drivetrain response to the terrain. However, what we were more interested in is how the Compass's underpinnings cope in traffic, on highways and byways. The answer is impressively well. The ride, no doubt aided by the generous sidewalls of the Falken Wildpeak tyres, is soft but well damped; the Compass rolls down a scarred tar road with little fuss. Higher speeds do unearth some pitching and tossing but nothing troubling. Certainly, the Jeep doesn't feel as well tied down as a CX-5 but the carmaker has struck a respectable compromise between comfort and composure (aided, of course, by all-wheel grip). The steering is well geared and reasonably direct, although we would have liked a bit more weight.
The drivetrain lets the side down. In its current configuration, the 2,4-litre Tigershark engine has been in use since 2013 and traces its origins back to the noughties. While it offers variable valve timing and valve-lift tech, there's no denying it does the Compass a disservice. A tested 0-100 km/h sprint time of 11,36 seconds is 1,51 seconds off the pace of the RAV4's 2,5-litre option (not exactly class-leading). The gulf extends in-gear, where the Japanese vehicle is 1,44 seconds quicker from 80 to 120 km/h, exactly where it counts to overtake a slow-moving truck or bus. Turbocharged competition in the form of the Tiguan and Kuga are much quicker, as well as being more frugal.
Their engines are more subdued, too. Fairly hushed in unhurried commuting, the Tigershark turns coarse at engine speeds nearing the 6 250 r/min redline. At least the nine-speed automatic transmission is more decisive here than in other applications.
Braking performance was disappointing; the Compass registered a below-average 10-stop time of 3,27 seconds. To its credit, the vehicle offers a full suite of standard safety features including lane-departure and forward-collision warning, blind-spot and cross-path detection, and automatic park assist.
TEST SUMMARY
Does the Jeep brand possess the allure it once had? This question kept coming up in the CAR team's discussions on the Compass. While a new Wrangler performs wonders for the brand's cachet, there's little else in the current line-up to excite. The Grand Cherokee is old, likewise the Cherokee (why has the much prettier facelifted version not been launched?). Only the ageing Renegade still draws a small but consistent group of buyers each month.
We debated that initial question when we tried to establish rivals for the Compass. Should it be compared with the likes of the Volvo XC40, BMW X1 and Audi Q3 (challengers that don't all offer comparable four-wheel-drive options)? It's certainly not to the standard of the former group should your measure include driving dynamics and perceived quality, although the Jeep is better specced than its European rivals. Nor can it compete with the RAV4 and CX-5 for practicality. So, although the new Compass is a vast improvement, our assessment of that first-generation model rings true for this latest one, too. In a market stuffed to the gills with talent, the Jeep's flaws are once again simply too numerous and obvious to ignore.
ROAD TEST SCORE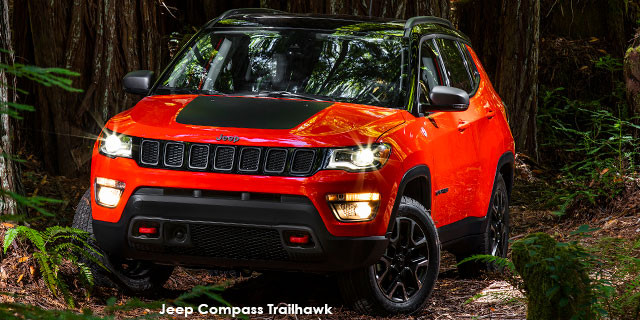 Compass Jeep Compass 2.4 4x4 Trailhawk
Price: R604,705
0-100 km/h:
Power ([email protected]/min): 129 KW @ 6400
Torque ([email protected]/min): 229 N.m @ 3900
Top speed: 185
Claimed cons. (l/100 km): 9.5 l/100 KM's
C02 emissions (g/km): 230 g/KM
Original article from Car