With a minor facelift and a new line-up offering just one spec level, this Gallic hatch returns to our market: we test the Peugeot 308 1,2T Allure AT...
After being AWOL from Peugeot's price lists for a year, the French manufacturer has reintroduced its midsize hatchback to the South African market. The 308 is a vehicle the CAR team has come to regard highly and it's with some disappointment we've noted its low sales volumes in our market since its launch here in 2015 (little more than 10 units a month).
Now, along with the mildest of facelifts, Peugeot has rejigged the line-up, jettisoning the Active, GT Line and GT models and retaining only the Allure spec in either manual or automatic configurations. The aesthetic update is, as mentioned, a minor one, with a restyled front bumper adopting larger air intakes and a redesigned diamond-cluster grille to add some aggression to its nose. Other than this, though, it's the same 308 as before.
When this facelift was introduced abroad in May 2017, it included a new eight-speed automatic transmission replacing the EAT6 that also does service in our 3008 long-termer. However, our market retains the six-speed torque-converter. Combined with its turbo-triple 1,2-litre engine, this remains a great powertrain, though, and refined progress is the order of the day.
Despite losing out to a Volkswagen Golf 1,4 TSI and Opel Astra 1,4T in a comparative test back in June 2016, credit was given to the Peugeot's classy design, both in and out, and generous GT Line standard spec. This Allure may have less in the way of standard features, but its specification remains generous with 16-inch alloy wheels, front and rear parking sensors, automatic headlamps and rain-sensing wipers, cruise control, dual-zone climate control and a 9,7-inch touchscreen infotainment system with phone-mirroring all standard.
As well equipped as it appears on paper, some of our testers felt the cabin to be a bit sparse in its overall design, lacking some variation in textures and finishes. There were also familiar criticisms of Peugeot's i-Cockpit layout with its compact steering and high-on-the-dash instrument panel; the wheel can obscure the dials for taller folk, unlike in the 3008, which has a wider range of driving-position options.
In terms of dynamics, our initial opinion of the 308 having a fun-to-pilot persona was confirmed; it's a characteristic made especially impressive given its torsion-beam rear-suspension setup. The 308's supple ride, light yet direct steering and punchy three-pot engine result in an engaging hatchback. Contributing to the cushioned ride are the 16-inch wheels wrapped in generously side-walled 205/55 R16 rubber (versus 45-profile tyres enveloping 17-inch wheels on that GT Line we tested previously).
On our scales, the Allure model registered 23 kg less than that model. This minor mass reduction had an impact on our performance testing and the Allure posted a 0-100 km/h acceleration figure of 9,67 seconds, which is 0,57 seconds quicker than the time we achieved with the GT Line. Apart from the 40-60 km/h bracket remaining the same at 1,83 seconds, in-gear acceleration is marginally quicker, too. The 100-0 km/h average braking time is 2,90 seconds (0,04 seconds slower).
Not that these figures made driving the Allure feel any different to the GT Line we previously tested. The real question is whether or not the Allure feels less special than its pricier former sibling. Notable features missing in this trim are LED headlamps, a rear parking camera, keyless entry, privacy glass and leather seats with a massaging function.
By our reckoning, while they are certainly nice-to-have items, they are not missed in this package and, when stacked up against a direct power-output competitor such as the Volkswagen Golf 1,4 TSI Comfortline, the 308 is better equipped.
TEST SUMMARY
The fact there is only one specification in the 308 line-up is yet another indication of how our market has swung away from sedans and midsize hatchbacks to SUVs and crossovers. That said, this 308 remains an excellent example of a family hatchback (bearing in mind rear legroom could be better) and, in Allure spec, adds better value-for-money appeal and a comfier ride thanks to the plumper tyres.
It's an impressive competitor in a niche dominated by a perennial heavyweight, the Volkswagen Golf, and the 308 will soon have to face further competition from the new Ford Focus (a hatch that, based on our drive at its international launch, could have what it takes to dethrone the Golf).
Peugeot SA is offering its own crossover — a new derivative of the 3008 with a 1,2-litre engine and in Active spec — for the same price as the 308 tested here. The hatchback is slightly better equipped courtesy of its Allure trim but, of course, with the crossover you have the added benefit of better packaging. And based on our findings in the 3008's long-term assessment, the bigger vehicle looks to be the better buy.
*From the October 2018 issue of CAR magazine
ROAD TEST SCORE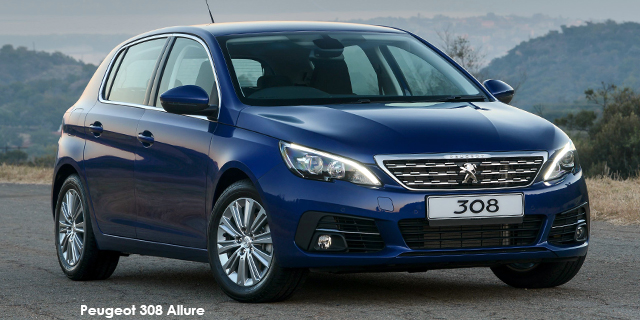 308 Peugeot 1.2T Allure auto
Price: R379,900
0-100 km/h: 9.8
Power ([email protected]/min): 96 KW @ 5500
Torque ([email protected]/min): 230 N.m @ 1750
Top speed: 206
Claimed cons. (l/100 km): 5.2 l/100 KM's
C02 emissions (g/km): 119 g/KM
Original article from Car