Peugeot is putting its best foot forward with the launch of its new 5008 people mover...
Sold in South Africa for 30 months between 2011 and '13, the original Peugeot 5008 made best use of its traditional MPV proportions to compete for sales against the likes of the second-generation Mazda5, the Toyota Verso and compatriot Renault Grand Scenic. Despite selling in limited numbers in our market, the 5008 was widely praised for both its versatility and spaciousness, as well as the modicum of quirkiness added to its exterior styling that only the French would dare execute on a 4,5-metre people mover. That welcome sense of exuberance remains in the second-generation 5008; although, in keeping with global market trends, Peugeot's newest seven-seater is now shaped to appeal to the ever-growing SUV customer.
Sharing its EMP2 platform and many of its modern styling cues with the current 3008 (an underrated favourite of ours), the 5008 is 190 mm longer than its sibling with a corresponding 165 mm stretch in wheelbase length, designed to accommodate a third row of seating within its sleek profile.
Introduced to coincide with the French brand's renewed focus on customer service and local reputation – a campaign dubbed "Peugeot Pride" – the new 5008 is offered in either Allure or top-of-the-range GT-Line specification with a choice of a 1,6-litre turbopetrol or 2,0-litre turbodiesel drivetrains. As with the 3008 range, standard specification across the larger model's portfolio is generous. The GT-Line tested here includes keyless entry and start, dual-zone climate control, LED headlamps, a comprehensive parking-sensor-and-camera system, 19-inch alloy wheels, a full bouquet of infotainment technologies and – the pièce de résistance – superbly crafted Nappa leather upholstery incorporating a massage function for the driver.
While not overly supportive in terms of lateral movement, the impressively comfortable driver's seat offers good adjustment around Peugeot's still divisive i-Cockpit driving position. In the 5008, this places the brand's widely adopted, small-circumference steering wheel (which feels especially out of place in a package this size) below a tall-sited 12,3-inch digital instrumentation cluster.
Crisp and clear, although at times languid in the responsiveness of its menus, this instrumentation is mirrored by the impressive workings (both for functionality and packaging) of the eight-inch touchscreen infotainment display and its row of metal supplementary toggle switches. On this note, like the 3008, the interior of the larger car is brimming with high-quality materials that invite your touch.
Replacing the bench-style second row found in the 3008 package is a collection of three individual pews in the larger car. Fitted with Isofix child-seat anchorage points, each of these chairs can be adjusted forwards or backwards to suit legroom requirements, or folded flat (together with the front-passenger seat) for increased versatility. Two more seats are stowed flat within the luggage compartment and they can be raised individually or removed altogether.
Slightly loftier in relation to the front two seats, the second row of the 5008 offers pinched headroom due to the bulky optional panoramic sunroof fitted to this press unit. In terms of comfort, the third row is reserved for small children (although there are no Isofix points here) or small adults. With these small seats stowed, luggage capacity – variable via the sliding second row – measured an impressive minimum of 456 litres.
Weighing 93 kg more than the similarly specced 3008 tested in our September 2017 issue, in the 5008 Peugeot's familiar 1,6-litre turbopetrol unit remains a refined, if not particularly sprightly, engine option. Mated with a six-speed automatic transmission, it's a drive-train perfectly suited to leisurely, open-road cruising where, based on our fuel route figure, consumption should remain below 8,0 L/100 km. As with the 3008, though, we'd be tempted to explore the flexibility and low-down torque offered by the 2,0-turbodiesel package.
The longer wheelbase and optimal distribution of that additional mass in the 5008 compared with its five-seater sibling translates to a refined ride quality. Even on standard 19-inch alloy wheels and 55-profile tyres, Peugeot's newest people mover offers impressive compliance and notable poise (with neatly controlled body roll) in most driving conditions.
TEST SUMMARY
More pertinent than just how good its products are compared with established rivals is South African consumers' attitude towards the reinvigorated Peugeot brand and its relaunched Citroën cousin.
Coinciding with the launch of the 5008, as well as a brace of modern Citroëns, is an aforementioned campaign aimed at regaining the trust of a local audience. While resale values will hopefully increase with the success of this initiative, extended warranty and service plans, a renewed focus of parts availability and the dealership experience are all positive steps.
In terms of putting their best foot forward, both the 3008 and the new 5008 offer levels of refinement and perceived build quality to rival their best foes, with standard specifications lists that others simply can't match.
Bonne chance, Peugeot SA!
ROAD TEST SCORE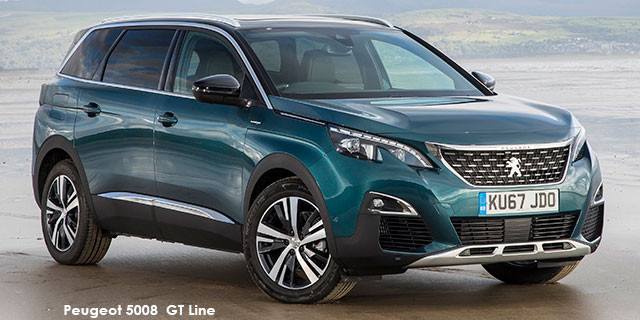 5008 Peugeot 5008 1.6T GT Line
Price: R674,900
0-100 km/h: 10.5
Power ([email protected]/min): 121 KW @ 6000
Torque ([email protected]/min): 240 N.m @ 1400
Top speed: 201
Claimed cons. (l/100 km): 7.0 l/100 KM's
C02 emissions (g/km): 156 g/KM
Original article from Car