The much-loved Duster undergoes a top-to-bottom remake, but does it retain its predecessor's simple charm?
The last time we tested a Duster – which wasnt all that long ago – it came off third-best against the Honda BR-V and Haval H2 but bested the new Toyota Rush in a battle of the budget SUVs. While in that comparative test we appreciated the Renault's value-oriented pricing, well-resolved suspension tuning and practical cabin, it betrayed its age with an interior constructed from fairly basic materials and one studded with a scattergun control layout.
At the recent launch of the second-generation Duster, Renault SA's representatives stressed the newest vehicle has addressed these concerns without, heaven forbid, making it too sophisticated and so denting the little SUV's robust appeal (more than 15 000 have been sold in South Africa, after all).
So, what we have here is a new Duster with a slicker appearance, better cabin materials, a revised line-up skewed heavily towards the diesel end – how refreshing in an era where diesel has become an, ahem, dirty word – and a clutch of new technologies to make driving it more effortless and comfortable.
This Prestige variant crowns a five-strong model line-up which kicks off with the 1,6 Expression (the sole petrol in the range) and peaks with this Prestige EDC model. Between them, there's a single (soon-to-launch) 4x4 model and two other Dynamique variants. The more powerful diesel variants boast a dual-clutch transmission option (the EDC in the name) while the others use either five- or six-speed manuals.
As we mentioned, a big part of the old Duster's appeal was its utilitarian, traditional-SUV appearance and, while the new model certainly looks classier thanks to such touches as 17-inch alloys on the Prestige, tasteful chrome trim and redesigned lights front and rear (the ones on the nose are surrounded by neat LED daytime-running signatures), it still appears fetchingly rugged.
The same is true inside. The quality of the finishes has improved – it even offers soft-touch panels on the doors and optional leather upholstery, as specified on this test unit – and Renault has updated the infotainment system and climate-control panel. The former is sited higher on the facia for quicker use on the move and the latter, with its brightwork-encircled bezels, is really neat and gives the otherwise plain facia a visual lift; one tester compared it to the treatment the German manufacturers dole out to their models. That said, perceived quality is still a step behind small hatches such as the Volkswagen Polo, Ford Fiesta and Renault's own Clio.
That scarcely matters, though, because this cockpit gets the fundamentals right. The seats are comfortable if a touch too unyielding (there's lumbar adjustment on the Prestige and reach adjustment on the steering column across the range, making it easy to find a suitable driving position) and it's a doddle to use the infotainment touchscreen with sat-nav functionality, although no Apple CarPlay or Android Auto are offered. What's more, it has more rear legroom than before (although a 4 mm increase is hardly the work of a magician) and a boot that's 40 litres larger than that of the outgoing car. Curiously, though, lugging suitcases into that cavernous space is more of a chore due to a 45 mm higher load lip. Refinement has improved, too, and the Duster is sufficiently hushed at 120 km/h.
The entry-level 1,6-litre petrol is shared with the Mégane range and now boasts outputs of 84 kW and 156 N.m. As before, though, the real star of the range is the 1,5-litre turbodiesel. Offered with outputs of 66 kW/210 N.m on the 1,5 dCi Dynamique and 80 kW and 250 N.m for models coupled with the EDC 'box – the 4x4 manual gains an additional 10 N.m – the diesel is acceptably torquey at lower speeds.
What it isn't, however, is sprightly at highway speeds and overtaking manoeuvres should be planned carefully (this is not helped by a six-speed dual-clutch transmission that's occasionally indecisive in its workings). Performance tails off markedly above 100 km/h, evidenced by the Duster requiring 13,04 seconds to reach the three-figure mark but another 17,39 seconds to add an additional 40 km/h.
Its braking performance was impressively consistent, with the stops from 100-0 km/h registering between 2,80 and 3,20 seconds for an average across 10 stops of 3,04 seconds.
Thankfully, the powertrain makes up for its sluggishness with sober drinking habits; over a weekend's spirited driving with the air-con on, our 1,5 dCi Prestige consumed just 5,80 L/100 km, while it posted an excellent figure of 5,70 L/100 km on our combined-cycle fuel route.
Under its new skin, the Duster employs a reworked version of the previous model's B0 platform – the one which underpinned the last-generation Sandero and the Logan small sedan – and that's a good thing. The system consists of MacPherson struts at the front and a torsion beam aft (the 4x4 ditches that setup for a more sophisticated multilink arrangement for improved articulation and wheel control).
What a pleasure it is to encounter a modern family car with lenient suspension tuning that doesn't favour iron-fisted body control over passenger comfort. Whether it's on pitted tar or gravel, the new Duster rides well. Yes, you sacrifice control as the body leans and pitches but for commuting – especially in those provinces where road maintenance appears to be a leisure pastime instead of a priority – the little Renault is perfectly judged.
TEST SUMMARY
How agreeable to know that, sometimes, all you need to do to create a great modern product is to execute a humble idea really well. The new Duster takes up the mantle from its predecessor with aplomb. It looks, feels and drives like a more modern vehicle without straying too far from the fundamentals that have made it such a global success story (more than a million of them have found homes since 2011).
We'd advise restraint when picking which model Duster to buy, though. As handy as the Prestige version's keyless entry and start, multi-view camera system and blind-spot assist are, the Dynamique EDC arguably offers better value while matching the flagship variant's sat-nav, touchscreen infotainment, parking sensors at the rear and automatic climate control. Even better is to keep Duster ownership as simple as possible by opting for the Dynamique manual at R282 900, or broaden the scope of the vehicle's capabilities by waiting for the 4x4...
*From the December 2018 issue of CAR magazine
ROAD TEST SCORE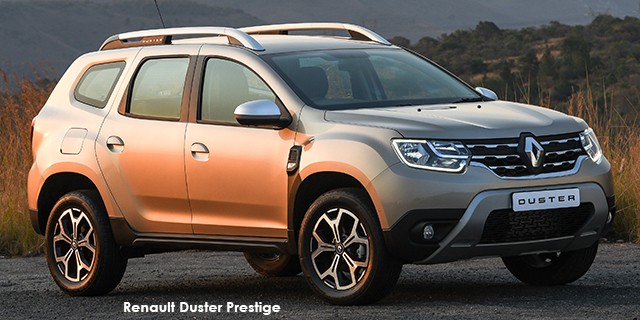 Duster Renault 1.5dCi Prestige
Price: R374,900
0-100 km/h: 11.9
Power ([email protected]/min): 80 KW @ 4000
Torque ([email protected]/min): 250 N.m @ 1750
Top speed: 169
Claimed cons. (l/100 km): 4.8 l/100 KM's
C02 emissions (g/km): 126 g/KM
Original article from Car