With the top-spec Subaru Forester now priced above R550k, is the mid-tier model the one to get?
Now in its fifth generation, the Forester nameplate has been around for more than two decades and has garnered a loyal following over the years. This is especially apparent in North America, where the Japanese brand ranked first in a 2019 US study in automotive brand loyalty, scoring above Toyota and Honda in second and third respectively. Although figures relating to the South African market are unknown, Subaru has a devout, albeit small, local fanbase.
We tested the all-new Forester (in top-spec 2,0i-S ES guise) when it was launched in SA in December 2018. Since then, 740 true-blue Subaru enthusiasts have taken ownership of examples of this midsize SUV. Admittedly, it's a rather insignificant number when you consider the total number of cars sold in this segment. But for the local arm of the Shibuya firm, it's an important one, as the fifth-generation Forester accounts for 60 percent of its overall sales.
Slotting in below the aforementioned top-spec derivative, which now demands an asking price north of R550 000, the 2,0i-L ES is R34 000 less expensive than the 2,0i-S ES. So how much does this mid-tier variant lack in terms of spec? The answer is not much. In fact, it might just be the one to get.
Generously equipped, the cabin is trimmed in leather and soft-touch materials. Some finishes are more sturdy than sophisticated but, generally, perceived quality is of an impressive standard.
An eight-inch touchscreen infotainment unit is positioned within easy reach of both the driver and front passenger. The display's workings are smooth and it's a breeze to operate the StarLink setup. Included in this system is screen-mirroring and Bluetooth, and there's an array of USB ports located behind the centre console for rear occupants. Aware of its traditional buyer's fondness of familiarity, the firm has retained a single-CD slot.
Thanks to the Forester's boxy shape, headroom fore and aft is generous, with the former measuring 942 mm when the electrically adjustable driver's seat is dialled to its lowest setting, awarding tall drivers sufficient scalp clearance. Rear kneeroom is first-rate, measuring 762 mm. Tightly packed, the boot swallowed 376 litres of our industry-standard ISO blocks. Fold down the 60:40-split rear backrest and it frees up a class-leading 1 424 litres of utility space. Park-distance control and a rear-view camera make it a cinch to manoeuvre the Forester.
As with the top-spec version, the 2,0i-L ES boasts seven airbags, Isofix and Subaru's EyeSight driver-assistance package. It does, however, go without blind-spot monitoring, reverse automatic braking, LED foglamps, sunroof and 18-inch diamond-cut alloys.
Trading the 2,0i-S ES' larger wheels for 17-inchers, the mid-spec model is all the better for it. The plumper tyres soak up jolts from pockmarked surfaces with aplomb. The 220 mm ground clearance and commanding driving position aid travelling along gravel roads or when you're stuck in a sea of crossovers during a daily commute.
As impressive as the Forester may be, its positive attributes are counterbalanced by a lacklustre 2,0-litre flat-four. Producing 115 kW and 196 N.m of torque available only from 4 000 r/min, the engine feels underpowered for a car of this size. And it showed. On our test strip, the 2,0i-L ES completed the 0-100 km/h dash in 12,61 seconds – 2,3 seconds slower than what Subaru claims – while in-gear acceleration in the 80-120 km/h increment took 8,32 seconds. Yet, we must mention Subaru's continuously variable transmission remains one of the best in the business.
The ventilated discs did just enough for the Forester to receive a "good" rating in our stringent 10-stop emergency braking test.
TEST SUMMARY
Here at CAR, we often argue that the best value can be found lower in a model range. The same applies to the three-strong Forester line-up. Placed neatly in the middle, the 2,0i-L ES CVT is arguably the sweet spot. It's a no-frills family SUV, endowed with myriad convenience and safety items, and a tried-and-tested all-wheel-drive system.
Said one tester: "The Forester is far more suited to a leisurely countryside getaway than the highway." Dressed in Jasper Green, it certainly looks the part. A standard three-year/75 000 km maintenance plan (as opposed to the service plans offered by its rivals) only boosts the Forester's appeal.
We should mention the Toyota RAV4 AWD GX-R tested in the July 2019 issue isn't much more expensive. If you're prepared to spend the extra cash, your purchase will be backed by an extensive dealer network and likely superior resale. However, if you're a Subaru loyalist set on buying a new Forester, this is the model to get.
ROAD TEST SCORE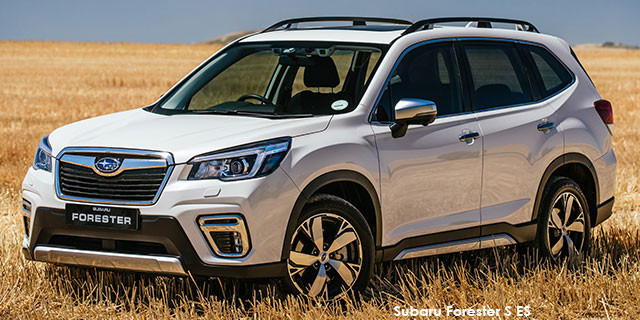 Forester Subaru Forester 2.0i-L ES
Price: R528,000
0-100 km/h: 10.3
Power ([email protected]/min): 115 KW @ 6000
Torque ([email protected]/min): 196 N.m @ 4000
Top speed:
Claimed cons. (l/100 km): 7.6 l/100 KM's
C02 emissions (g/km): 176 g/KM
Original article from Car