Much has been written about Suzuki's entry-level S-Presso being SA's cheapest new car. Does it make financial sense in a higher spec, though?
It's no secret our country's facing an unprecedented economic crisis amid the chaos sown by COVID-19 and the related lockdown. As such, it stands to reason many car buyers will look to downgrade in the coming months which is great news for budget-focused brands such as Suzuki.
Long the proponent of good value without compromising on quality, reliability or standard specification, the Japanese carmaker has caught the attention of buyers seeking solid, no-frills motoring with products such as the Swift and Celerio (both previous category winners in our annual Top 12 Best Buys consumer awards), Baleno, Ignis and Jimny. It might just have made its boldest move yet in launching the S-Presso, and that's not just because the entry-level GL is South Africa's cheapest new car.
No, we're referring to the bold exterior design, an amalgam of city-hatch and retro off-roader design cues (thank the generous 180 mm ground clearance) which, during our test period, split opinions into two extremes: cute or ugly. We'll give it the benefit of the doubt and label it "quirky".
Part of a five-model range, this flagship-trim S-Edition model looks identical to the GL and GL+ (which, like the S-Edition, is available with a five-speed automated-manual transmission) aside from garnish on the wheelarches, front and rear skid plates, doors and grille. All models feature 14-inch steel wheels with practical trapezoidal covers and a full-size spare wheel. There are six exterior colours on offer, including this Sizzle Orange, leading one tester to compare the S-Presso to a Cozy Coupé, a little toy car for kids…
The quirk factor remains high inside, with a massive circle around the centrally sited instrumentation (including a trip computer displaying range to empty and fuel consumption) and seven-inch touchscreen system fitted to GL+ and S-Edition models. It also encloses the electric window switches, which will take some familiarisation if you're used to finding them on the driver's door. S-Edition trim mirrors the exterior silver elements on this centre console, as well as the air-con louvres and door panels.
Impressively, the infotainment system offers both Apple CarPlay and Android Auto as standard – much like its rivals and unlike some premium European brands – and is easy enough to use despite some virtual controls being small and requiring concentration to select; there are no supplementary buttons on the urethane steering wheel. Two speakers provide just-about sufficient audio clarity and Bluetooth supplements USB and auxiliary ports.
All S-Presso models boast air-conditioning as standard, which we found particularly effective, but the side mirrors have to be adjusted using stalks on the A-pillars; they're no hardship to reach considering how narrow the vehicle is (1 520 mm). You and your front seat passenger will soon be intimately acquainted as you rub elbows, which is the norm for this segment but, impressively, the little Suzuki offers a generous 724 mm of rear legroom. That's more than you'll find in B-segment hatchbacks and, coupled with a high roofline, allows four adults to fit surprisingly comfortably. Its boot, too, is comparatively big, and there are storage nooks and crannies spread throughout the cabin. Suzuki's designers and engineers should be applauded for fitting so much car into a 3 565 mm long body plopped onto a 2 380 mm wheelbase.
If you're tall, however, the driving position could soon prove a nuisance. Lacking height adjustment on the driver's seat and steering column, lankier pilots will find the wheel sited too low and the header rail encroaching on their forward vision. As always, try before you buy. Thankfully the seats themselves are comfortable.
Like the Celerio, the S-Presso features the brand's proven K10B 1,0-litre, three-cylinder engine and it's well up to the task of moving the lithe 766 kg body. It's coupled with a five-speed manual transmission that's a joy to use and the engine rarely feels breathless thanks to its charming three-pot warble. There's no rev counter, mind.
On our test strip on a warm autumn day, the S-Presso managed to accelerate to 100 km/h in a class-leading 13,18 seconds and posted equally impressive in-gear acceleration figures (although we failed to clock 140 km/h in fifth gear, the S-Presso instead preferring to do so in the fourth cog). At those speeds, wind noise is the dominant racket, drowning out the feeble pair of speakers but, again, the same criticism applies to its rivals. Keep the S-Presso at 100-110 km/h and it feels stable and settled, which is not the case with the Renault Kwid.
The S-Presso's suspension system is as basic as you'd expect, featuring MacPherson struts at the front and a torsion beam at the rear. However, it's well tuned for comfort, offering a cushioned ride over all but the worst road scars. The generously sidewalled tyres no doubt help in this regard.
The steering system and body control are both less impressive, however. Lacking sufficient self-centring, or any sense of being connected to the front wheels, the steering is vague and requires 3,8 turns lock to lock, which does dent manoeuvrability a tad. Likewise, extreme angles of body lean owing to the lofty ride height force the driver to negotiate corners at lower speeds than they might be used to. Will buyers care? Unlikely, but it's worth mentioning.
An area in which many city cars stand to considerably improve is braking ability, and the S-Presso is no different. Despite boasting ABS with EBD, we managed a comparatively poor 10-stop average braking time of 3,30 seconds across a median distance of 46,87 metres. Bear in mind the majority of vehicles we test dip under 40 metres, which could mean the difference between stopping in time or not.
While we're on the safety front, the S-Presso features dual front airbags, parking sensors at the rear (coupled with a reverse-view camera; again, a feature not standard on many vastly more expensive vehicles) and four three-point seatbelts with a lap belt for the fifth passenger. Unfortunately, Isofix anchorage points for a child-seat are glaringly absent from the spec sheet.
TEST SUMMARY
Some obvious issues aside that – in Suzuki's defence – are endemic to the budget-car segment, the S-Presso has the measure of all its rivals. A notably inexpensive parts basket, fuel consumption of just 4,8 L/100 km on our standardised fuel route, a standard two-year/30 000 km service plan alongside a five-year/200 000 km warranty (plus the first year's insurance included) make the S-Presso a particularly cost-effective vehicle to run every month.
Low operating costs aren't the only reason we rate Suzuki's new entry-level tyke so highly. It's practical and well-equipped, too, and represents a strong argument in favour of downsizing. Will Suzuki once again win the coveted budget car crown when we vote for the Top 12 Best Buys winners early in 2021? Only a fool would bet against it…
ROAD TEST SCORE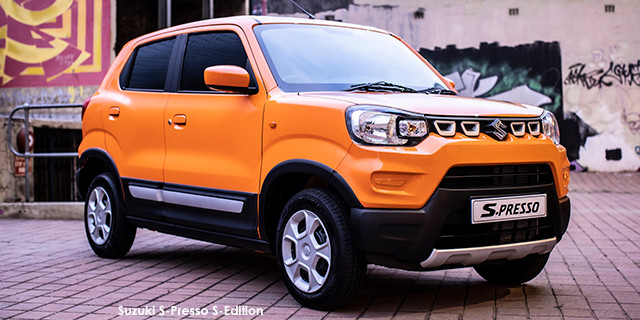 S-Presso Suzuki S-Presso 1.0 S-Edition
Price: R170,900
0-100 km/h:
Power ([email protected]/min): 50 KW @ 5500
Torque ([email protected]/min): 90 N.m @ 3500
Top speed:
Claimed cons. (l/100 km): 4.9 l/100 KM's
C02 emissions (g/km): 118 g/KM
Original article from Car