German-influenced it may be but the new Toyota Supra has a character distinct from its Continental twin...
The realisation dawns a few minutes after you first set off in the A90-generation Toyota Supra: it feels different to a BMW Z4 M40i. Sure, the exhaust note is clearly Bavarian and you'll have to try really, really hard not to notice BMW switchgear in your periphery as you peer out the deeply slanted windscreen. The dissimilarity, however, is in the way the Supra drives. It's softer yet, somehow, beautifully controlled, too. The suspension offers real compliance but the two-door coupé is never loose-limbed. But more on that later.
The product of joint development by Japan and Germany (an agonisingly long gestation period), the Supra and Z4 share chassis architecture, suspension, electrics and drivetrains. An astute move by both brands considering the limited volumes at which these sportscars will sell, BMW ultimately spent less on a Z4 it would have built anyway and Toyota could bring a new Supra to market earlier than would have been the case had it followed its own path.
Of course, this partnership also allowed Toyota to honour the Supra's legacy: a front-mounted inline-six engine driving the rear wheels. Tested on the Nürburgring Nordschleife (the vehicle is built alongside the Z4 by Magna Steyr in Graz, Austria), the new Supra is the first bespoke Toyota honed by Gazoo Racing, which is in charge of its global motorsports programme.
Locally, Toyota South Africa Motors offers the Supra in two trim grades, an entry-level Track derivative and this higher-spec (nameless) version. The Track's stripped of convenience and safety features to dip below a million (R953 000), while this unit receives the full-fat specification complement plus metallic paint and costs R1 072 300, or R35 601 more than a Z4 M40i.
Much has been written about the Supra's styling, some people expressing admiration and others dislike. The CAR team followed that split, with certain members praising the attention-grabbing looks and others critiquing the fake scoops and vents, and the slightly odd proportions from certain angles (the front three-quarter, for example). Still, it's an intriguing design which swivels eyeballs and heads, and isn't that the point?
The interior is equally divisive, but for different reasons. The connection to BMW is most obvious here, where nearly every switch, knob and button has been pilfered from the German company's parts bin. It's more successful in some parts – iDrive infotainment accessed via an 8,8-inch touchscreen or that familiar rotary controller; climate controls – than others (the steering wheel is plainly a previous-generation BMW item), but perceived quality is impressive throughout and everything is straightforward to use. A Z4 has the edge, though, in creating a sense of material richness and occasion.
Heavily bolstered seats with integrated headrests are bespoke to the Supra and – aside from some shortness in the squab for taller drivers – they're comfortable, supportive and low-slung. In-cabin storage is in short supply but the boot is a good size at 184 litres.
Not divisive at all is the sonorous 3,0-litre inline-six turbopetrol sitting far back in the engine bay for a near-perfect 50:50 weight distribution. Developing 250 kW and 500 N.m from 1 600 to 4 500 r/min, the B58-coded engine boasts a single twin-scroll turbocharger, direct fuel injection and continuously variable valve control. It's mated with an ZF-sourced eight-speed auto 'box linked to paddle shifters behind the thin-rimmed (yay!) tiller.
Despite offering launch control, the best acceleration run on our test strip was achieved with engine revs kept low against the brake; the Supra sped to 100 km/h in a mere 4,31 seconds. That's more than half a second quicker than a 64 kg heavier Z4 M40i test unit managed in July 2019. In-gear, the Toyota shows the Z4 a clean pair of heels. Braking performance is exceptional, too, the Supra coming to a halt in an average time over 10 stops of just 2,65 seconds and needing just 34,02 metres to do so.
In order to ensure optimum chassis balance, the engineers aimed for a "golden ratio" when developing the underpinnings. It's widely recognised the best balanced of agility and stability is obtained with a ratio of 1,5-1,6 to 1 (the wheelbase measurement divided by the rear track's). With respective figures of 2 470 and 1 589 mm, the Supra's ratio is 1,55 to 1, Toyota's original target.
Engineer-speak aside, this two-seater has a tangible sense of pivoting around its centre-point. The front turns incisively and the rear axle, with its active differential, follows diligently. Trim the throttle and the line tightens; feed in more power and the front-end starts nudging wide. The Supra feels playful but never intimidating. It probably has a smidge too much grip (the rear tyres are extra wide) but that means progress is smooth and neat, yet still enjoyable.
The steering system is lighter here than in the Z4, and much the better for it. It's direct, quick (just 2,2 turns lock to lock) and has sufficient feel in cornering extremis.
TEST SUMMARY
We were worried the Supra would feel too much like a BMW and not enough like a Toyota. We needn't have been. The end product sits on a spectrum: the cabin and engine lean unmistakably Bavaria while the driving experience teems with approachable Japanese cues rather than composure-über-alles German ones. It's a mish-mash that somehow works quite brilliantly, especially as a daily runner where refinement and accomplished damping count for more than ultimate body control.
We have our concerns about the strong pricing, especially in light of the Porsche 718 Cayman and the considerably more powerful M2 Competition, and how the market will accept this hybridised Toyota. However, with a score of 80/100, the Supra clearly won over the affections of a cynical CAR team.
ROAD TEST SCORE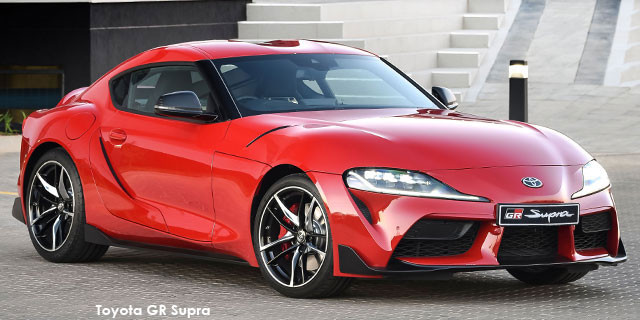 GR Supra Toyota GR Supra 3.0T
Price: R1,250,100
0-100 km/h: 4.3
Power ([email protected]/min): 250 KW @ 5000-6500
Torque ([email protected]/min): 500 N.m @ 1600-4500
Top speed: 250
Claimed cons. (l/100 km): 7.7 l/100 KM's
C02 emissions (g/km): 177 g/KM
Original article from Car