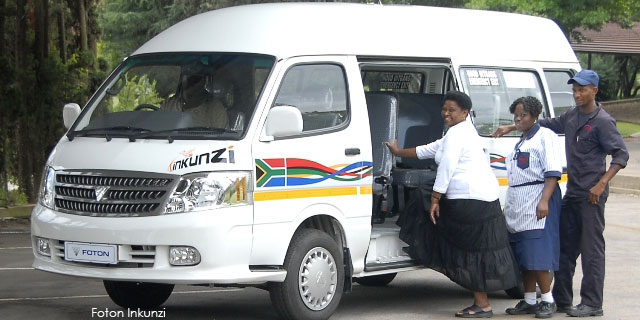 Foton View 2.2 Inkunzi
Compare this Variant

- standard

- optional
Features
Power steering:
CD player:
Frontfog lamps lights:
Metallic pearl escent paint:
Specifications
Fuel Type: petrol
Fuel range average: 765 km
Driven wheels: rear
Driven wheels quantity: 2
Gearratios quantity: 5
Gearshift: manual
Transmission type: manual
Front tyres: 195/70 R15
Reartyres: 195/70 R15
Length: 5 320 mm
Width excl mirrors incl mirrors: 1 690 mm
Height: 2 225 mm
Wheel base: 2 890 mm
Ground clearance minimum maximum: 165 mm
Turning circle wheels body: 11.5 m
Unladen/tare/kerb weight: 1 760 kg
Load carrying capacity / payload: 1 240
Gross weight (GVM): 3 000 kg
Fuel tank capacity (incl reserve): 65l
Economy
Fuel consumption urban: n/a l/100km
Fuel consumption extra urban: n/a l/100km
Fuel consumption average: 8.5 l/100km
CO2 emissions average: n/ag/km
Performance
Power maximum: 76 kW
Power maximum total: 76 kW
Power peak revs: 4 600 r/min
Power to weight ratio: 43 kW/ton
Torque maximum: 193 Nm
Torque peak revs: 2 600 r/min
Torque maximum total: 193 Nm
Torque to weight ratio: 110 Nm/ton
Acceleration 0-100 kmh: n/as
Maximum top speed: 120 km/h
Engine Details
Engine position/ location: front
Engine capacity: 2 237 cc
Engine size: 2.2l
enginedetailshort: 2.2
Engine + detail: 2.2
Cylinder layout: inline
Cylinders: 4
Cylinder layout + quantity: i4
Cam: sohc
Valves per cylinder: 2
Valves quantity: 8
Warranties and Maintainance
Warranty time (years): 1
Warranty distance (km): 40 000 km
Service interval (distance): 15 000 km
Information
Brand: Foton
Status: c
Segment: LCV
MMcode: 21518200
MMVariant: INKUNZI 2.2 TAXI
MMintrodat: 2009-10-01
Introdate: 2009-10-01
DuoportarecordID: FotoView1e2
Disclaimer
All information, pictures, colours, specifications or any other data contained within the www.cardealer.co.za website are presented only as a general guide to products and accessories offered by motor manufactures. Although every effort has been made to ensure that all such information is correct and up to date, no guarantee is provided that all such information is reliable, complete, accurate or without error. In some cases pictures of various foreign models may be shown as a guide. All information should be verified by an official dealership.
www.cardealer.co.za does not accept any liability for damages of any kind resulting from the access or use of this site and its contents.
If you do not wish to be bound by these Terms you may not access, copy or download any content on this Website as per the CAR Dealer Terms of Use available at cardealer.co.za/terms_of_use.html