The fourth generation of Hyundai's globally best-selling SUV has arrived in South Africa. Can it finally charm its way into local consumers' hearts?
An inspired move to expand its penetration into global markets, Hyundai's decision to shed the original Hyundai Santa Fe's ladder-frame underpinnings in favour of an altogether more refined (read: on-road biased) architecture for its third-generation model did little to sway favour in an adventure-inclined South African market all too keen on rugged rivals such as the Toyota Fortuner and Ford Everest. Despite its sleek European styling, upmarket interior and favourable reviews (we praised the 2,2 CRDi 4x4 Elite in a March 2013 road test), our market's penchant for bakkie-based SUVs remained firmly intrenched.
Like many on our team, Hyundai SA stands by its view that the local buyer is missing out on a more refined large-SUV experience by not casting their search-engine net wider. To this end – and arriving on the back of impressive monthly sales of the Tucson – the fourth-generation Santa Fe aims to make inroads into this lucrative local segment.
Built on a newer platform than its Kia Sorento cousin, the freshest Hyundai SUV dates its company cousin further in the styling department. Where the recently updated (third-generation) Kia hides its seven-seat bulk behind conservative lines tending to blend into the traffic, the Santa Fe announces its presence via a bold interpretation of the Cascading Grille/Composite Light design language first seen on the Kona.
Seventy millimetres longer and 10 mm wider, the new Santa Fe also boasts a 65 mm stretch in wheelbase compared with the model it replaces. While corresponding shorter overhangs front and rear help to manage exterior proportions, the real-world benefits of these new dimensions can be found in a cabin offering an increased level of space and comfort, predominantly for rear-seat occupants.
Standard throughout the new three-model range, a 50:50-split third row of seats stows flush in the luggage compartment. Accessed via a logical tip-and-tumble function on the second row, accommodation in the rearmost seats is improved thanks to increased leg- and headroom, as well as more generous views. We noted an increase in the amount to packing space aft of these installed seats (up from 96 litres).
As before, the second row can be adjusted fore and aft in a 60:40-split to boost either legroom or luggage/utility space. With the previous generation praised for its build quality, the fourth iteration raises this bar once more. From comfortable leather-clad seating to nicely weighted switchgear, a wide variety of storage options and many nice-to-touch surfaces, there's a lot to like about the interior of the new Santa Fe.
A glance below the glossy surface of this entry-level model does reveal some cost-sensitive compromises in terms of specification, however.
At this elevated price point, the absence of keyless entry and a powered driver's seat is a tad disappointing, especially in the shadow of the more keenly priced and better specced Sorento. On the topic of spec, we'd go so far as to suggest Hyundai's decision to reserve its most up-to-date safety features (including a system which keeps the rear doors locked should it sense oncoming traffic) exclusively for the most expensive model is a tad short-sighted.
Of the updates that the new generation Santa Fe receives, a full-colour seven-inch touchscreen infotainment display shared with European models is most welcome. While the absence of satellite navigation in even the top specification disappoints, the ability of this system to mirror a mobile phone goes some way towards compensating.
While the aforementioned Elite model features an AWD powertrain, the two lesser derivatives have their 142 kW and 440 N.m of torque delivered from the familiar 2,2-litre turbodiesel to the front wheels via a new A8LR1 eight-speed automatic transmission. Fitted within this Premium model's 1 808 kg frame, it's a drivetrain delivering steady punch.
If there is a notable difference between this application and the identical one tested in the Kia Grand Sedona last month, it's that a likely lighter lick of sound-deadening materials present in the Hyundai allows more engine noise into the cabin. That said, like the Kia, we'd expect the Santa Fe's consumption to average just below 8,0 L/100 km (our standout 6,6 L/100 km fuel-route figure was recorded in especially favourable conditions).
On-road, the combination of 18-inch alloys and a responsive rack-mounted electric power-steering system makes the Santa Fe feel much sportier and, indeed, planted than its similarly specced Sorento cousin.
TEST SUMMARY
More striking styling and sharper dynamics aside, it's impossible not to draw comparisons with our former (top-of-the-range) long-term Kia Sorento. If the Kia – which is our Top 12 Best Buys large SUV/crossover champion – is perched on older underpinnings, the differences between these two aren't glaring.
They're two impressive products from the same extended family that, certainly in FWD configuration, deserve to sell better than they do against their more rudimentary competition. At this price point, it's the superior value offered by the Kia that secures it our vote.
ROAD TEST SCORE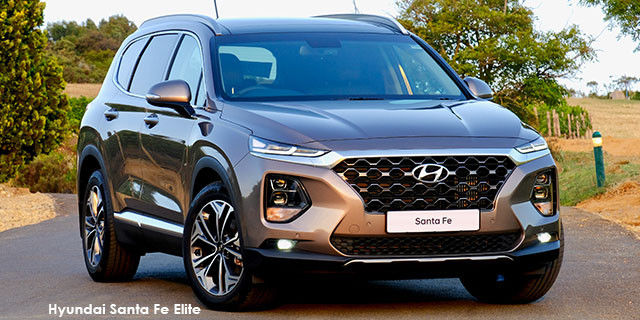 Santa Fe Hyundai Santa Fe 2.2D Premium
Price: R669,500
0-100 km/h:
Power ([email protected]/min): 142 KW @ 3800
Torque ([email protected]/min): 440 N.m @ 1750-2750
Top speed:
Claimed cons. (l/100 km): 7.8 l/100 KM's
C02 emissions (g/km): 200 g/KM
Original article from Car