Updates to Kia's people-mover include improved spec and overall efficiency. Is that enough to draw away buyers from a potential SUV purchase?
Introduced as the Carnival in 1999 before adopting the more familiar Sedona nameplate (latterly with a "Grand" suffix) through two further generations, Kia's long-wheelbase people mover has not only become a stalwart in the Korean brand's local line-up, but it remains one of the most underrated modes of family transport in this market. Having impressed us in every previous CAR test – including comfortably seeing off a Mercedes-Benz V-Class and Volkswagen Caravelle in a February 2016 comparative – arguably the main reason the Sedona is often overlooked is that it doesn't conform to any particular set of segment rules. Sharing much of its platform with the Sorento SUV, with the Sedona Kia decided not to follow sister company Hyundai down the H-1 MPV/minibus route. Instead, it adopted a more low-slung, European form. This may ultimately deprive the Sedona of some interior room compared with its traditional one-box rivals, but it also grants the Kia an altogether less utilitarian stance. It's as at home in the corporate parking area as it is on the school run.
Corresponding with a midlife refresh of the third-generation Sedona's styling, inside and out, and in an attempt to enhance the appeal of this range, Kia Motors South Africa refined this vehicle's local offering. Replacing the mid-level SX specification of the outgoing range is a new EX+ derivative (tested here) aimed at bridging the equipment and pricing gap between the entry-level EX model and the top-of-the-range SXL.
Subtle updates to the exterior of the Sedona range include a revised grille, redesigned headlamp clusters and modified bumpers front and rear, while tangible interior improvements include the welcome integration of touchscreen infotainment tech throughout (seven inches in EX spec and eight inches thereafter), as well as an electric handbrake (with a hill-hold function). The previous model had a foot-operated anchor pedal.
Although the driving position remains more car-like than the aforementioned minibus rivals, the Sedona does offer good all-round visibility and a welcome amount of both shoulder- and headroom for front-seat occupants. Mid-spec it may be, but the only items we'd genuinely miss on this EX+ model is the electric sliding function on the two sliding second row doors on the more expensive model. The manually operated doors on our fairly high-mileage test unit were cumbersome to slide and will need lubrication at the car's next service. A boon in EX+ spec is the multi-zone climate-control system with separate second-row controls and dedicated vents for each passenger.
Design-dictated headroom concessions aside, the appeal of the Sedona package remains impressive, with high levels of comfort and versatility throughout. While the EX derivative can be ordered with seating for seven or 11 occupants (the latter as a special order), EX+ specification comes with standard seating for eight. Here, a smaller third seat/armrest with a lap belt is installed between the two second-row chairs. Adjustable fore and aft in a 40:20:40-split, these outer seats can easily be tumbled forward to allow access to the third row which seat a trio of large kids. Accordingly, the backrests of these rearmost seats can be folded in a 60:40-split, or both pews can stow flat within the cavernous luggage compartment; space is freed up by the fitment of the spare wheel towards the centre of the Sedona's underbody.
In consolidating the range, Kia SA has done away with the 3,3 V6 petrol engine option and retained only the brand's impressive 2,2 R turbodiesel unit. Boasting 147 kW and 440 N.m of torque available between 1 750 and 2 750 r/min, the new addition to this drivetrain package is Kia's in-house developed eight-speed auto, offering greater cruising speeds than the outgoing six-speed unit. This updated powertrain combination managed to improve on our fuel route figure for the Sedona from 8,30 to 7,10 L/100 km.
Relatively light in its workings, the Kia's hydraulically assisted steering system makes the five-metre, two-tonne Sedona easy to manoeuvre. A further advantage of that lower stance is that there's less body roll when changing direction and it's less susceptible to crosswinds.
TEST SUMMARY
In the absence in our market of more traditional MPVs such as the Chrysler Grand Voyager, the Grand Sedona is in the unique position of competing against both bus-based rivals as well as a fair selection of SUVs, even in its own family. While the recently updated Sorento range offers all-wheel-drive derivatives, as well as slightly more generous ground clearance, the appeal of additional seating and a more versatile luggage compartment may just sway buyers towards a slightly dearer, yet altogether better specced, Grand Sedona.
The MPV section of the Top 12 Best Buys awards may have been consolidated within a broader category for 2019 but, had it still existed, the Grand Sedona would easily have claimed its fourth straight victory.
ROAD TEST SCORE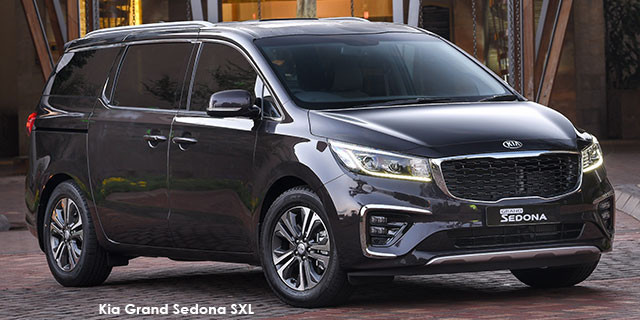 Grand Sedona Kia Grand Sedona 2.2CRDi EX+
Price: R792,995
0-100 km/h: 13.6
Power ([email protected]/min): 147 KW @ 3800
Torque ([email protected]/min): 440 N.m @ 1750-2750
Top speed: 190
Claimed cons. (l/100 km): 8.0 l/100 KM's
C02 emissions (g/km): 208 g/KM
Original article from Car